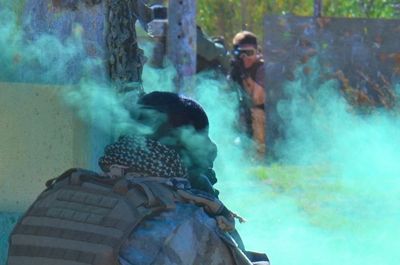 Stryker Paintball & Airsoft
We are open Saturday and Sunday from 9 am to 4 pm. Weekdays by appointment.
We are located at 17081 S. Mountain Rd Santa Paula CA 93060.
805-217-4029
Paintball Rules
A signed waiver must be completed at check-in. Minors require guardian signature.
Minimum age is 12. Exceptions can be made if a parent is present.
All paintball used must be purchased at Stryker.
No drugs or alcohol allowed.
No physical contact or use of profanity.
Staff or referee must be present for all play. Follow referee's direction.
Barrel blocking device must be used at all times unless on the playing field.
No shooting in any area other than the designated playing fields.
Minimum shooting distance between players is 10 feet.
No shooting at wildlife, automobiles or planes.
Markers may not shoot higher than 280 feet per second. Markers will be checked.
Full face mask must be worn at all times while on the playing field
Airsoft Rules
A signed waiver must be completed at check-in. Minors require guardian signature.
Minimum age is 10. Exceptions can be made if a parent is present.
Only 6mm biodegradable BBs are permitted.
No drugs or alcohol allowed.
No physical contact or use of profanity.
Staff or referee must be present for all play. Follow referee's direction.
Barrel blocking device must be used at all times unless on the playing field.
No shooting in any area other than the designated playing fields.
Minimum shooting distance between players is 10 feet.
No shooting at wildlife, automobiles or planes.
All guns must shoot less than 400 feet per second.
Single shot sniper rifles must shoot less than 500 feet per second. The minimum engagement distance for a sniper rifle is 100 feet.
Full face mask must be worn at all times while on the playing field. Only players over the age of 18 may wear sealed safety goggles.
Helpful Tips
We take lunch orders once per day from a local pizza place. You may bring your own food if you like.
Water and soft drinks are available for purchase.
Wear loose fitting clothes. Long sleeve shirts are highly recommended.
You may park your car in the rest area adjacent to the playing fields.
If you need anything or have any questions please ask. Our staff will do whatever it takes to make sure you have an enjoyable experience.